ARTIST * ELENA ROMENKOVA * RUSSIA
Elena Romenkova (1986b.) is an artist from St. Petersburg, Russia. She participated in art
exhibitions in Russia and abroad since 2004.Working as 3D digital artist , in field of data manipulation and "glitch art". She creates still
images and animation. Also she developing in programming to use a generated pictures in her digital images and video.
Education: Graduated University of A. Herzen, fine art faculty Master degree.
Exhibitions:
2013- DULCE / SPAMM online -virtual
2013 had personal exhibition of glitch art works in EXPERIMENTAL SOUND GALLERY
(ESG-21) Russia
2014-The WRONG- New Digital Art Biennale in Homeostasis Lab -virtual
2014-ERROR MESSAGE Moscow Museum of Modern Art (MMOMA)
2014- Digital Visions. France, Limoges.
2014-CLOUD MAKERS AND OPEN TECH: an open exhibition, Canada, Vancouver
2014- Gallery T, ON LINE EXPOSITION, 28 SEC PIXELINN EXPOSITION SEPTEMBER 2014-
virtual
2014- ДРЕСИРОВАНІ ГЛІТЧІ Мала Галерея "Мистецького Арсеналу"
2014-[un]moved Mistetskiy Arsenal, Kiev.
2014-personal exhibition. GLITCH DIVA. Electromuseum.Moscow
2015-SPAMM/VIRTUALISM, Paris, Moscow, New York
2015- /'fu:bar/ expo (21st - 24th of May, @ Siva Galerija, Zagreb, CRO
2015-Glitch art is dead. Teatr Barakah, Krakow,Poland
2015-GLITCH .New York.(21.10-28.10) in Con Artist Collective Gallery
2015-The Wrong - New Digital Art Biennale- virtual
2015 GalleryT ON LINE EXPOSITION, Immersion-virtual
2016 -MOVA The Museum of Virtual Art -virtual
2016- Gallery T ON LINE EXPOSITION, Art Codings-virtual
2016- Virtual Dreams. Online exhibition http://virtualdream.online/ -virtual
2016 - Anti-Materia https://anti-materia.org/eyecandy/?offset=1480882927089 -virtual
2017-SPAMM http://spamm.fr/
2017-Glitch Art is Dead. USA. Minneapolis. Gamut Gallery .
2017- Gallery T, ONLINE EXPOSITION, 360° exhibition -virtual
2017- DaDa club online exhibition. Brescia, Italy. Spazio Contemporanea. Spazio Contemporanea .
2017- MOVA The Museum of Virtual Art II https://parallaxvisions.itch.io/museum-of-virtual-art-2 -
Virtual
2017-exhibition in ZENTRALE gallery - Vienna.
2017- tres_W digital art exhibition. Third edition, 11th May in Las Armas , Spain, Zaragoz
2017- Cavo Fest "Echoes From Russia" september 14th 2017 . Italy, Trany.
2017- virtu.real. Internationales Polyaisthesis Symposium – Zur Aesthetik des Digitalen". Austria,
St-Pölten.
2017-ANTIMATERIA , EMPTY VESSELS The Wrong - New Digital Art Biennale, Toluca, Mexico
2018-"NOISE" Digital Festival , Space Debris Art Art Gallery · Istanbul, Turkey
What is your inspirational source?
It is difficult for me to define one main source of inspiration. Life inspires me with modern dynamic process of new technologies development. It's processes in robotics, automation and artificial intelligence, VR and augmented reality, biomechanical, cyborgs, this are already intimately connected with our minds and bodies. Of course, the softwares, I work with, inspire me as well. It gives me endless amount of possibilities to visualize my ideas. And one is the most inspired technique for me is data manipulating or glitching. The result is always so unpredictable for me, it's planed random. The new shapes and colors are arising and the picture is creating during the process. The nature inspires me with new ideas as well.There is a huge variety of shapes, lines, textures, lights, colors and I see these things as compositions of graphic elements. Sometimes i got ideas for creating from real life situation, emotions or night dreams.
What are the most meaningful topics you try to represent in your work?
I don't know how to describe my artworks, it's going by itself. #Postsurrealistc, #Self-knowledge, #Self-determination, #Self-consciousness, #Meaning of life, #HumanBodies, #Human Fragments , #Glitch, #Weird, #NewTechnology, #Robotics, #ArtificialIntelligence, #Thoughts, #Feelings, #Dreams, #Newaesthetic, , #Emotions, #Spheres, #Liquid Lights, #Space, #Abstract, #Colors, #Shapes, #Lines, #Graphic..
How did you find your own style to create your digital work?
Well, I would say, that art for me is a continuous process of finding own style. Before I became a digital artist, I graduated at the faculty of Fine art and did a lot of classical drawings and paintings. But over the time, I felt that I can not express my ideas only with the language of the analog field. One day I was doing color correction of a digital photo. There was a failure in the file structure, the glitch happened and this brought me into new beauty. I began to develop in the methods of disruption.
Glitch presents to me new expressive visual elements and new meanings. It expresses for me some doubts about the integrity and uniqueness of the structure of the whole. But then I had an idea to try the data processing methods for 3D elements and it completely hooked me. I released that 3D has an infinite field of possibilities for creating and 3D glitch generates such strange shapes and their transformations replacing them with new meanings and a new aesthetics.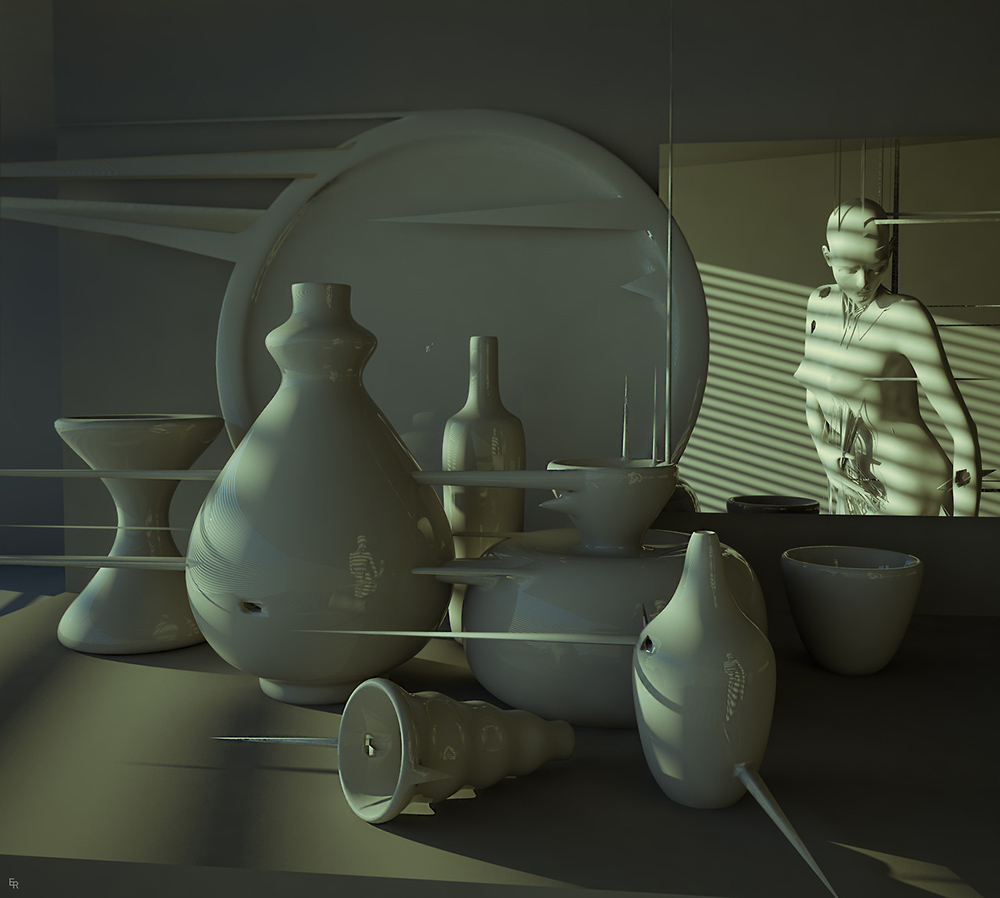 How do you envision future technologies and how will they affect your work?
This days technology already did a big step. #Robots #artificial intelligence #automation #Internet of Things #Microcontroller #VR #augmented reality #3D printing. In future the line between illusion and reality will disappear. Computer technology integrates more and more into humans life. I'm developing in VR direction. That so great opportunity to me to visualize my surrealistic worlds into virtual reality and make it interactive. Art and technology assimilate, virtual museums will come, interactive art in VR, and many other stuff happens these days. In future i wanna touch the surface of my sculptures in VR hologram real world and feel it. Parallel universe of our consciousness should will be available and what was only imagination will become a reality.
How do social networks influence your work?
For an artist it's a perfect opportunity to share and show his works and get feedback immediately. Network is like an open museum for everyone, it's 24/7 and unlimited space. I collaborate with other artists from all over the world and get inspired when i'm watching works of others. Networks helps me to find a lot of new connections with artists and musicians and to participate in many exhibitions. And with digital art it works especially good, because it could be independently printed. Usually i use few networks it helps me to come in touch with new people. Internet is an organic thing, it is always changing and developing, i like to go with this, develop myself and include my creations in this stream.
Why i'm doing art?
I am just loving it.