ARTIST * OK HOUSECAT * UNITED STATES

Billy Prosise spends his days singing songs, teaching kids, creating things, and trying to make all the sounds that he has never heard before..
What is your inspirational source?
I CREATE to prove that I EXIST- the stagnant are invisible; the empty-handed disappear.
At its most basic, my inspiration comes from an intense fascination with, passion for, and love of all things sound.  I'm very lucky that I get to indulge this fascination every day at work- I teach music at an elementary school to kids from kindergarten to fifth grade.  The kids love when I bring in my inventions and are constantly giving me off-the-wall ideas.
>
How did you find your own style to create your work?
GLORIFY THE ARBITRARY.
I love figuring out how to do things, and circuit bending was certainly one of those things.  I got started with a couple of books that were a great foundation, and from there just started experimenting and learning along the way. This is not always the fastest or easiest way (I've probably broken more toys than I've been successful with), but it has allowed me to create a lot without simply mimicking the work of others.  Whether in my music, drawings, writing, or circuit bending projects, I try to make things for which there is no easy comparison.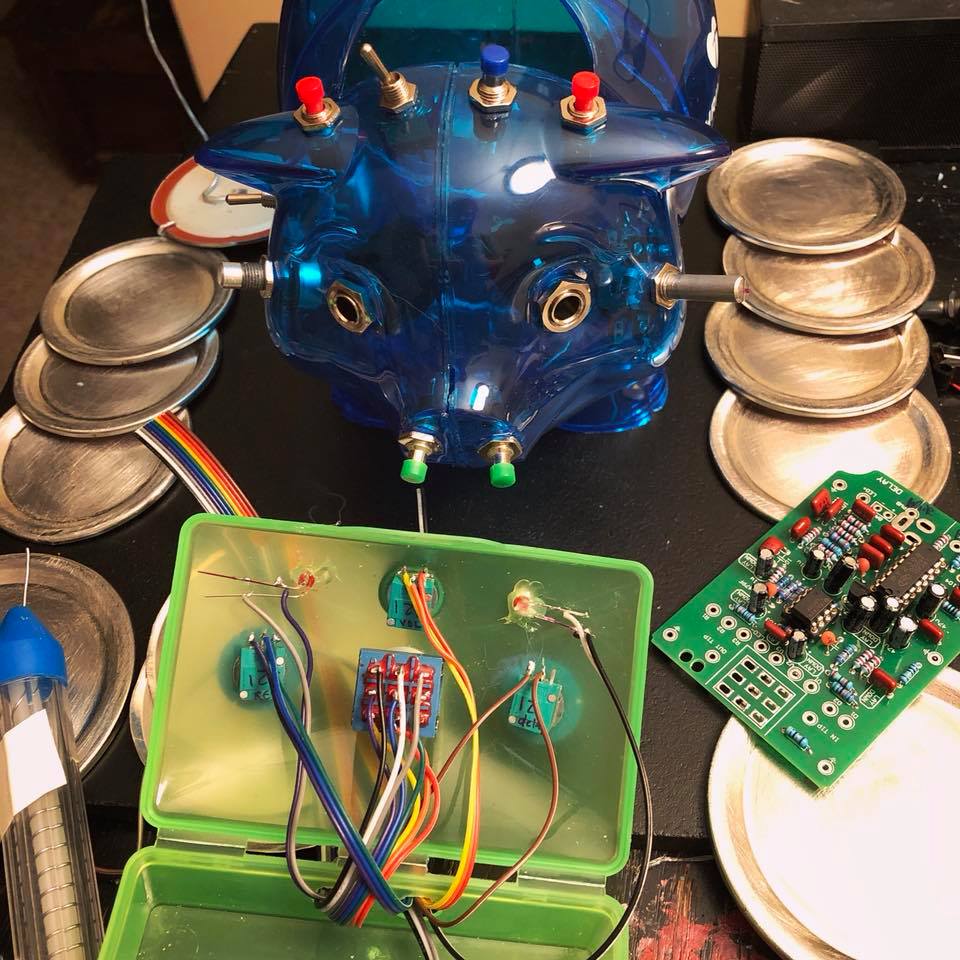 What is your favorite synthesizer to create music?
I create SYNTHESIZERS out of MUSIC.
My favorite keyboard to record is definitely the Casio SK-1.  Even unmodified it is a beautiful instrument- the SK-1 flute sound with portamento is one of my favorite sounds of all time.  And the modified SK-1 is a ferocious, uncalculated purveyor of bizarre sound. There is a seemingly unending number of possible mods, allowing for some ambitious designs- I've covered things like toasters, hummingbird feeders and hamster tubes with buttons, switches and knobs and wired them to connect to the keyboard to mangle the sound.
Tell us about your circuit bending projects?

Currently I'm finishing up a Yamaha VSS-30 sampling keyboard (pic below). Instead of installing all of the switches, buttons, and knobs onto the keyboard, I used hamster cage supplies to build a colorful control panel that scrambles the sound into your favorite oblivion.
Many of my projects are similarly colorful and built into an odd assortment of items.  I have samplers and sequencers built into hamster balls, toasters that control keyboards, delay FX built into flashlights, a gutted harmonica that controls a gameboy, and an exit sign that controls a drum machine, to name a few.  I also modify old toys and paint them to make them look as bizarre as they sound- below are pictures of a farmer says toy that now sports Mr. Potato Head arms that turn to control the sound, and a crazy FX unit made out of two toy megaphones, built into an Elmo lunchbox. 

.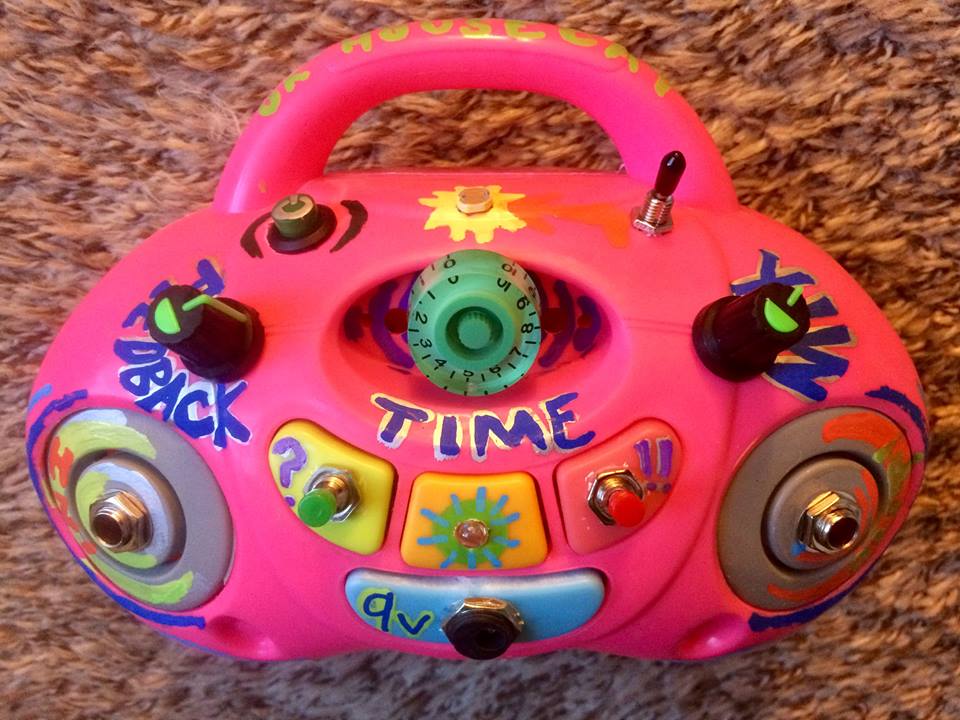 How do you experiment with the sounds?
I like to see how far things will bend before they break.
It's fun to connect things that aren't meant to be connected just to see what happens, and to create unlistenable sounds just for the sake of hearing something that you've never heard before. There is a very visceral appeal to extreme noise, and I like the challenge of taking the cacophony and shaping it into something to which you can tap your toe or sing along.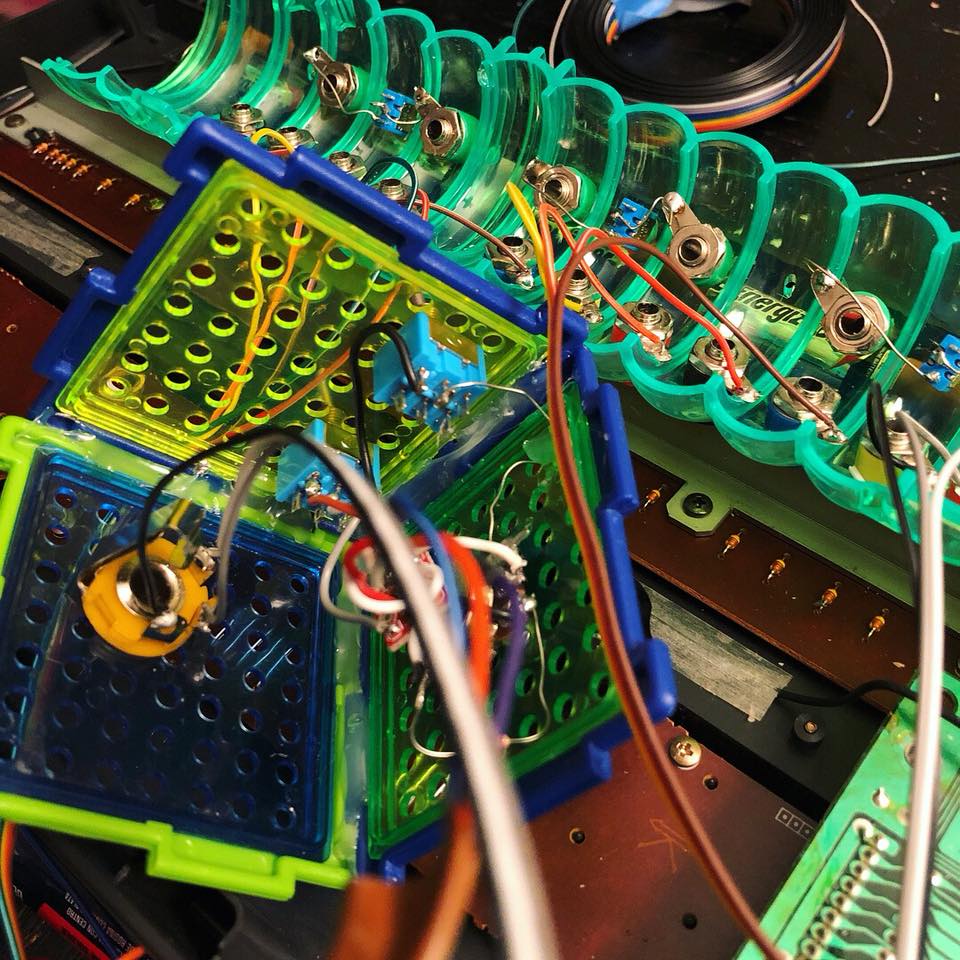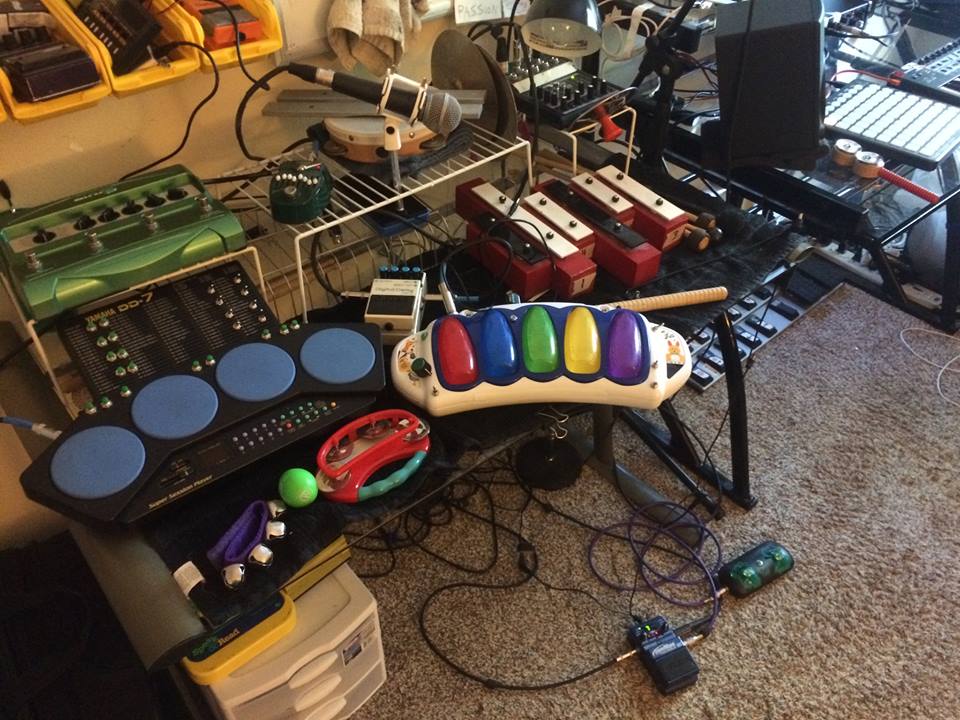 .
How is your creative process when creating a sound piece and circuit Bending?
My creative process is scattered by necessity, as my attention span is about the same as the kids I teach.  Sometimes I'll look at something, immediately have an idea, then put the whole thing together in a few days. Other times, I'll open something up, put it on a shelf, then stare at it for weeks before a design materializes. The one constant is my hands: they are always busy. I am always creating something, inspired or not, because what I make will not exist otherwise.